FESTIVAL OF THE ARTS
APRIL 24 – 29, 2018 | BICENTENNIAL PARK, DOWNTOWN OKC
Festival of the Arts takes place at Bicentennial Park in downtown Oklahoma City. The event stretches from Lee Ave east to City Hall, and from Colcord north to Couch Drive, with 750,000 Festival attendees! Come explore and be part of an OKC tradition!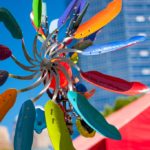 Festival is open from Tuesday-Saturday, 11 a.m.–9 p.m., and Sunday from 11 a.m. –6 p.m.—rain or shine!
TRAVELING TO THE FESTIVAL
Getting to the Festival is easy. To see a Google map, click HERE. To see a list of downtown parking options, click HERE. From I-40, take the Downtown/Shields exit. The Festival is located in Bicentennial Park, on Walker between Colcord and Couch, and on the City Hall lawn. When traveling to the festival please note that Walker will be closed between Colcord and Couch Drive.
PARKING
Parking will be available in the Arts District Garage located just south of City Hall, as well as the lot located at 444 West Reno.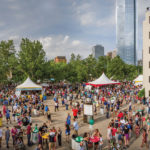 A Chesapeake Energy CNG shuttle will pick up passengers at the parking lot every fifteen minutes from 10 a.m. to 10 p.m. daily during the festival. This lot is paid parking.
Paid parking is available in lots and garages located throughout downtown Oklahoma City. There is also limited street parking located around the perimeter of the event. Please visit www.parkingokc.com to see a list of available lots.
Source – Arts Council Oklahoma City
Key Realty and Property Management
405-605-6445
Google+