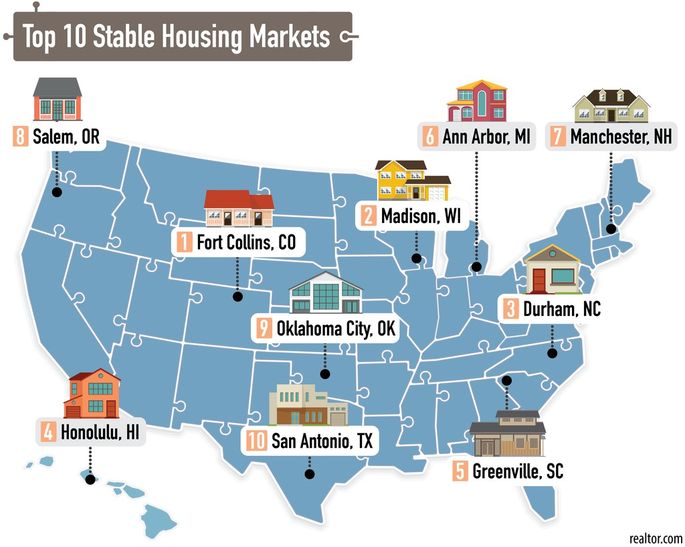 Special Thanks to http://cherylcorealestate.com/
Today's rapidly skyrocketing home prices are making more than a few people nervous.
After all, it was only about a decade ago that the U.S. real estate market bubble burst, and millions of Americans lost their homes (and for many, life savings). And, as most of us recall all too well, plenty of others found themselves underwater on their mortgages, owing more than the homes were worth. But then came … the recovery. God bless the recovery! The housing market and economy have come roaring back. Some markets, in fact, are booming to historic levels.
So let us put you at ease: What goes up doesn't have to come crashing down. As we've said before, record-high prices alone do not make a bubble. Still, if playing it safe is your top priority, we've got you covered. Our data team at realtor.com® set out to find the real estate markets that are least likely to pop if the country heads toward another recession—metros where home prices are still rising at a healthy (versus dizzying) pace.
We also only included markets where the supply of homes for sale is still large enough that buyers are unlikely to be pulled into costly bidding wars.
"These are the Goldilocks of today's housing market," says Javier Vivas, manager of economic research for realtor.com. "Not too hot, and not too cold, these markets present the right balance of housing and economic conditions for buying and selling activity to evolve naturally."
Of course, no market is completely bulletproof against another financial crisis. But these cities, with their strong and diversified industries, come pretty darn close. Plus, steadily rising price appreciation means that they're likely to be solid investments for the long haul. And slow and steady wins the race, right?
"They have rising demand, and the corresponding supply to quench it," Vivas says. "And they're all relatively smaller metros, often with large nearby siblings eating up any potential irrational growth, which keeps them from overheating."
To identify the 10 metros where you can buy a home and rest easy about it, we compared the 150 largest U.S. housing markets, using nine key metrics:
Positive (but not out-of-control) price appreciation of between 4% and 12% in 2016
An ample supply of homes for sale (between three and seven months available)
Affordability, measured by the percentage of income needed to buy a home
New home construction recovered from the recession
Median number of days homes are on the market (the lower the better)
Foreclosure rate
Percentage of homes underwater
Percentage of homes with price reduction (yep: Lower is better)
Low unemployment rate
Got it? So stay calm, get comfortable, and take a tour through our list of America's most rock-steady markets.
Fort Collins, COMedian home price: $376,000

Annual price growth: 7%

Colorado State University and a robust high-tech scene, which includes Hewlett-Packard and Intel, contribute to an enviable unemployment rate of 2.9% in this city of 160,000, the state's fourth biggest. Fort Collins also has a third line of defense against economic downturns: the beer industry. It is home to a major Anheuser-Busch facility and 22 craft breweries—and as the Prohibitionists found, the alcohol industry is awfully tough to kill.

"Largely due to its diverse economy, the Fort Collins market has been extremely stable," says Realtor Larry Kendall of the Group. "During the recession, our home prices didn't fall nearly as much as the rest of the country."

Fort Collins is also very affordable—at least by Colorado standards. The median home price is about 25% less than in Denver and 40% less than in Boulder, CO, both of which are about an hour away.

Housing highlight: The city is home to River Rock Commons, a progressive cohousing development of nearly three dozen single-family homes set up around a common house, where residents can prepare communal meals they can enjoy with one another. Togetherness rules.

Madison, WIMedian home price: $272,500

Annual price growth: 10%

The University of Wisconsin infuses Madison with a young, hip, and relentlessly energetic vibe. That feeds directly into the ultra-walkable downtown lined with cafés and restaurants. But if that's not your scene, residents can take advantage of the miles of hiking and biking trails along idyllic lake shores.

Homeowners here also have a low risk of foreclosure. Only 28 homes were shuttered in the last quarter of 2016, representing less than 2% of all home sales.

"That's because we have a solid economy, with very few layoffs," says realtor Alex Saloutos of First Weber Realtors. "Coming off the last recession, buyers are also much more cautious. They don't max out their [debt-to-income] ratio."

The University of Wisconsin is the area's largest employer, but there are also jobs to be had with companies like health care software maker Epic Systems and insurance provider Wisconsin Physicians Service.

Housing highlight: Wisconsin state Rep. Melissa Sargent, who hails from Madison, recently proposed a law that would increase the number of "sober housing" developments in the state, intended for drug addicts and alcoholics in recovery.

Durham, NCMedian home price: $320,000

Annual price growth: 10%

Top schools like Duke and the University of North Carolina at Chapel Hill supply a steady stream of talent to Durham's thriving health care and research industries.

Research Triangle Park, aka "Smartsville, USA," is one of the world's largest research centers. More than 200 high-tech companies, including IBM and Cisco, operate there. Throw a rock, and you might hit a Nobel Prize-winning scientist or inventor of the next life-altering tech startup. (But don't throw rocks, please.)

"People are starting to notice Durham," says Courtney James, owner of Urban Durham Realty. "It's a relatively affordable market for young people graduating from universities and creating their own startups. This is a young city, full of creative energy."

Housing highlight: When living in traditional homes gets boring, Durham residents can move into tobacco mills converted into awesome lofts with 22-foot ceilings at the Apartments at American Tobacco.

Honolulu, HIMedian home price: $649,500

Annual price growth: 9%

How the heck did gorgeous, universally desired Honolulu wind up on this list? Affordability clearly isn't the Hawaiian capital's greatest asset, but high rankings across all of our other metrics make it a surprisingly stable market. The Polynesian paradise has an extremely low foreclosure rate (2%), very few underwater homes (4%), and a jealousy-inducing unemployment rate (2.8%).

And, hey, who doesn't love crashing waves, lush palm trees, and sun-drenched beaches? Those lures, which draw legions of tourists from all over the world, helped to insulate the city—for the most part—from the last recession.

"We have a well-balanced combination of mainland and international buyers, which cushioned us through the last mortgage meltdown," says Khai Tran, a real estate agent with Coldwell Banker Pacific Properties.

Housing highlight: There's a push to bring back the traditional Polynesian hale homes in Hawaii, as a way to create more affordable housing for the state's low-income and homeless residents. The thatched homes are typically made of local trees and plants.

Greenville, SCMedian home price: $234,000

Annual price growth: 10%

Greenville strikes a remarkable balance between economic diversity (aka a variety of jobs) and a high quality of life. The city has no shortage of large companies with local operations, like the multinational conglomerate 3M, General Electric, and Michelin, which is drawing younger and older workers alike. Yet, it still serves up an affordable cost of living, with a revitalized downtown filled with cool restaurants and bars, art galleries, and boutiques lining the popular Falls Park, and yep, even a craft distillery.

Realtor Lindsay Saunders, of Greenville Home Girls, says the majority of her clients are younger professionals relocating to Greenville thanks to corporate job opportunities and the city's affordability.

"They sold their homes in big cities like Charlotte and Atlanta, come here, buy a home, and live comfortably with the rest of their savings," Saunders says.

Bucking the national trend, Greenville does not suffer from the problem of having too few homes for sale. That's due to a building boom that's reshaping the city.

Housing highlight: Completed in 2004, the beautiful 345-foot Liberty Bridge in Falls Park holds 1,300 people at a time, supported by a single suspension cable. The stunning downtown view is just a bonus.

Ann Arbor, MI
Median home price: $286,000Annual price growth: 10%

The University of Michigan is a huge economic and cultural force here. Benefiting from a highly skilled workforce, Ann Arbor has thriving technology and health care communities, including Trinity Health and University of Michigan Medical Center.

Deb Odom Stern, an associate broker at Charles Reinhart Realtors, says she has never worked with any sellers who are "moving away from Ann Arbor because they lost their jobs." The majority of her clients are out-of-towners relocating to Ann Arbor for work.

In the off-hours, there are plenty of things to do. Michigan Stadium, the country's largest stadium, is packed with Wolverine fans during University of Michigan games. In addition to museums and performing art centers, Ann Arbor—which some people consider the city with the most educated population in the United States—has a reservoir of independent bookstores.

Housing highlight: Ann Arbor is dotted with "fairy doors," unique and exquisitely detailed tiny entrances set into walls around town. Many of them open onto miniature rooms. Cute, huh?

Manchester, NHMedian home price: $293,500

Annual price growth: 9%

With colorful foliage, Colonial-style homes, and the occasional moose, Manchester conjures up a bucolic Northeastern mise en scènethat's becoming increasingly rare. Just an hour's drive north of Boston, Manchester is a commutable destination for home buyers fleeing the ridiculously competitive big-city market. Its median home price is only two-thirds of what they would pay in Boston.

A longtime manufacturing center, New Hampshire's largest city has made big strides in exploring new industries. The downtown has an emerging high-tech hub, including a revitalized mill building serving as a startup incubator with a catchy name: Silicon Millyard. And Manchester's unemployment rate of 3% is among the country's lowest.

"A lot of millennials [have been] moving into the downtown area in the past several years," says local real estate agent Moe Archambault, owner of Moe Marketing Realty Group. Obviously, he says, the draw is "job availability—the Silicon Valley type of employment."

Housing highlight: Comedian Adam Sandler grew up in Manchester, and never lets his fans forget it. "Grown-Ups 2" prominently featured Manchester's iconic diner Red Arrow—recreated on location in nearby Marblehead, MA.

Salem, ORMedian home price: $283,000

Annual price growth: 11%

As the state capital of Oregon, Salem brims with state and federal employees. Surrounded by picturesque countryside, Salem is a regional hub for agribusinesses—including Kettle Foods, maker of dangerously addictive potato chips—and a booming renewable energy sector.

And home prices are only two-thirds of what they are in pricey hipster Portland, just an hour away.

Education is a big plus for Salem, too. The Salem-Keizer School District is the second-largest school district in Oregon, with 65 schools and about 41,000 students.

A solid economy helps to buoy Salem's housing market. Just 13% of homes in Salem had price reductions in 2016, among the lowest in our study.

Housing highlight: Salem is smack-dab in the middle of Oregon's wine country, and you can even live in a winery—Ankeny Vineyard is currently on the market at only $895,000.

Oklahoma City, OKMedian home price: $219,000

Annual price growth: 7%

The capital of Oklahoma has more going on than tornadoes. The city is home to the most rabidly loyal fan base in the NBA, and more rodeo festivals than you'll ever have time to attend. Most importantly, with such an affordable median home price, buyers can realize their dream of a spacious home with a backyard for the kids.

Oklahoma City is also A-OK when it comes to dealing with recessions. It was the big city the least affected by economic downturns between 1990 and 2015. according to a study in the Journal of Urban Economics.

The recent oil slump did have some impact here. But so far, home prices have been holding up. Prices went up 7% last year, down from 11% in the previous year, but much more than in other oil-dependent cities, such as Midland, TX (-7%), and Bismarck, ND (-7%).

That's partly due to a diverse economy of oil and gas, state government, and the Tinker Air Force Base, which help to safeguard it against economic volatility.

Housing highlight: Oklahoma City's most expensive home on the market comes with a private pond and an awesome grotto. A steal at $4.75 million.

San Antonio, TXMedian home price: $276,000

Annual price growth: 5%

Dubbed "Military City, USA," San Antonio is home to four major military bases, which supply more than 80,000 jobs. The city is blessed with strong bioscience and health care industries, which employ 1 out of every 6 San Antonians.

The city also has attractions like the bustling River Walk, the tourist fave Alamo, and lots of picturesque Greek Revival historic homes downtown.The city's old-world charm attracts not just tourists, but residents who bond over tacos.

To meet the housing demand, new condos have been popping up all over the metro.The good news: San Antonio still has room to grow! At a whopping 461 square miles, it ranks as the ninth-largest city by area in the contiguous United States.

Housing highlight: King William Historic District, a historical neighborhood with beautiful Victorian-style homes, dates to the 1790s and is San Antonio's first suburb.
Yuqing Pan, a Stanford graduate with a multimedia journalism background, writes data-driven stories for realtor.com.
Follow @YuqingPan
Call Karyn with Key Realty and Property Management to start or add to your OKC Investment Properties Portfolio.
405-605-6445
Google+